Forbes Top 250 Recruiting Firms!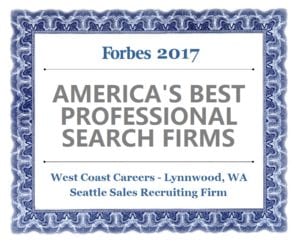 Forbes.Com recently named West Coast Careers in their list of Top 250 Recruiting Firms! We are so proud to be on this list and will continue to do what we do best! We have a great team here in our office, and certainly have the best candidates and employer clients. If you are looking to hire top talent or are in the job market and looking for new opportunities, contact us today at 425-672-4200 or feel free to send in your resume to resume@westcoastcareers.com.
To see the full list, click here!